Suber S. Huang, MD, MBA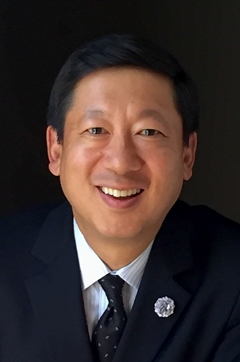 11100 Euclid Avenue
University Hospitals Eye Institute
Lakeside 4107
Cleveland, OH 44106-5028 , US map

Education and training
Retinal fellowship

Bascom Palmer Eye Institute, Miami,, FL, USA
---
Biography
Suber S. Huang, MD, MBA is a native of Columbus, Ohio and is certified by the American Board of Ophthalmology. He received his undergraduate degree from the Johns Hopkins University, his medical degree in 1990 from the Albert Einstein College of Medicine, and his MBA in 2004 from the Weatherhead School of Management, Case Western Reserve University. He completed his ophthalmology residency training at the Wilmer Ophthalmological Institute, Johns Hopkins University and a fellowship in vitreoretinal diseases and surgery from the Bascom Palmer Eye Institute at the University of Miami.

Dr Huang joined the Department of Ophthalmology and Visual Sciences at University Hospitals of Cleveland/Case Western Reserve University in 1993. In 1999, he founded the Retinal Diseases Image Analysis Reading Center at University hospitals Case Medical Center. He served as Ophthalmology Residency Program Director from 2001-2003. Dr. Huang is currently Vice-Chairman, Director of Center for Retina and Macular Disease of the University Hospitals Eye Institute and is Director of Clinical Research Programs.

In 2010, Dr. Huang was elected President of the American Society of Retina Specialists and Chair of the Foundation of the ASRS. He has served the American Academy of Ophthalmology on the Retina Sub-Specialty Program, the Ophthalmology Technology and Assessment Committee, and is the current Chair of the Research, Regulatory and external Federal Affairs Committee. Since 2003, Dr. Huang has served on the Steering Committee for the National Eye Health Education Program, an advisory board to the National Eye Institute/National Institutes of Health. He is Chair of the Diabetic Eye Disease program.

In 2008-2009, he served as Medical Director for Digital HealthCare and has a long-standing interest in the use of tele-ophthalmology for risk assessment of ocular complications of diabetes. Dr. Huang served on the Board of Directors for the Northeast Ohio Juvenile Diabetes Research Foundation from 2007-2010. He is a member of the Ophthalmology Leadership Advocacy Group and the National Academies of Practice, Academy of Medicine. Dr. Huang served as faculty advisor for the Asian American Alliance until 2009 and helped found Case for Sight and undergraduate philanthropic organization dedicated to improving the lives of people with vision loss. He is a trustee of the University School.

Dr. Huang has research interests in age-related macular degeneration, diabetic retinopathy, cell-based therapy, and retinal surgery. He serves as a research consultant to numerous industry sponsors, the National Eye Institute, and to NASA. Dr. Huang's honors include the achievement and senior honor awards from the American Academy of Ophthalmology and the American Society of Retina Specialists. He has been selected each year since 2003 to the Top Doctors in America, Northern Ohio Live and Cleveland Magazine Top Doctors award. He received the Case Western Reserve University School of Medicine Health Care Foundation of New Jersey 2000 Humanism in Medicine award. This award is given yearly to the faculty member who most demonstrates compassion and professionalism in the care of patients and their families.

Academic appointments
Philip F. and Elizabeth Searle - Suber Huang MD Professor Case Western Reserve University
Vice-Chair - Department of Ophthalmology and Visual Sciences
Case Western Reserve University
Hospital appointments
Director, Center for Retina and Macular Disease - University Hospitals Eye Institute
Director, Retinal Disease Image Analysis Reading Center - University Hospitals Eye Institute